My third run-in with Joel Peterson – founder of Ravenswood, ZAP Association board of directors member, and dubbed "the godfather of Zinfandel" – might have been the most interesting one to date. And that's saying something, considering that the first time I met him (to talk about the potential of East Coast wines) he tried to turn the meeting around and interview me, and the second time I ran into him was at Taste of Sonoma during which he was decked out in Indian garb. And a cowboy hat.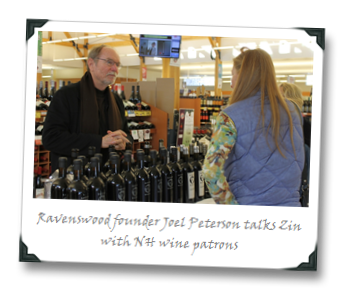 It was at that Sonoma event that Peterson poured me some of his 1997 Ravenswood Belloni Vineyard Zinfandel blend, a gorgeously spicy introduction to a side of the Ravenswood juggernaut that many don't get to see, primarily because so little of their single-vineyard designate Zins are made (usually under 1500 cases for each release).
During my jaunt north to attend New Hampshire Wine Week (about which there will be more written on these virtual pages, assuming something resembling free time appears within the next couple of weeks and it isn't booked solid with appointments to shovel more goddamned snow out of my goddamned driveway), I spent a good deal of time with Peterson, during which we gabbed, drank (particularly the deliciously overachieving 2009 Ravenswood Pickberry Vineyards Red blend), ate (a lot), and generally laughed at the beauty and absurdity of the modern wine world. Ok, mostly the absurdity.
We also talked Zinfandel; rather, Joel talked Zinfandel and I got schooled on it, the results of which have been chronicled over at Wine.Answers.com in the form of an introduction to Zinfandel wine through Peterson's eyes, as well as a history lesson about the grape, in which its true, original name is compared to an Orc from Tolkien's The Silmarillion.
Luckily for me, I got to tag along with Peterson as he poured for patrons of NH's flagship wine outlet ("Store #69"), which afforded an opportunity to get reacquainted with Belloni, along with some of its other single-vineyard brethren…