Has the case for excellent Walla Walla Syrah been definitively demonstrated?  Q.E.D.?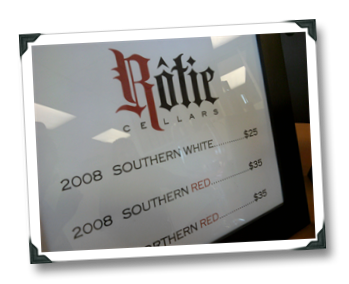 I'm not going to go quite that far.  But I will say that they might be pretty damn close, especially in those cases where the balance beats out the brawn in their Syrah bottlings.
Two wine producers that I encountered recently in Walla Walla (while there for the 2010 Wine Bloggers Conference) in particular made good cases (ha-ha!) for Walla Walla Syrah being the wave of the future; one which officially took part in the WBC activities, and one that didn't (in fact, their winemaker skipped town during the event).
The first of these was Rasa Vineyards, led by the Naravane brothers who have engineering backgrounds, and are fascinating folks to talk to, provided you can follow their scientific leanings.  They were part of a panel about WA wine at Three Rivers Winery (part of the WBC events), and certainly talked up the potential of Walla Walla Syrah when I asked the panel what they thought the future held given that Walla Walla is still a relatively young wine producing region.
The proof, fortunately, was in the juice, and their appropriately-titled 2007 QED wine, sourced from Walla Walla and Yakima fruit, is powerful, expressive, but balanced; it's also expensive at $50 – but overall a decent value when compared to more expensive but not-quite-as-solid Syrah-based wines being made elsewhere on the Left Coast.
The second was pretty much the entire portfolio of wines from Rotie Cellars, who were kind enough to host a handful of us bloggers in their downtown Walla Walla tasting room while lunch activities took place during day one of the WBC.  Winemaker Sean Boyd is certainly playing with fire with their wine names ("VdP" for example), which I am sure the French would be none-too-happy about, but he has some Syrah-based wines with significant promise; they might have been some of the most deftly balanced WA reds that I've ever tasted.
But with all of this focus on the future going on, the WA wine scene, I quickly learned, would do well not to forget its past…