Remember when I waxed all smitten-like over a tasting of Rangen Alsace Grand Cru Riesling?
Well, I do.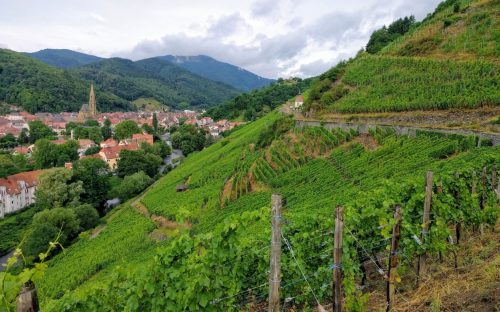 I was so smitten, in fact, that I did  something that I've only ever done twice in ten years, which was to reach out to the U.S. PR agency dealing with Alsatian wines and ask them to book me on a media jaunt to the area, so that I could get my feet directly on those Rangen rocks. Which, luckily for me, they did.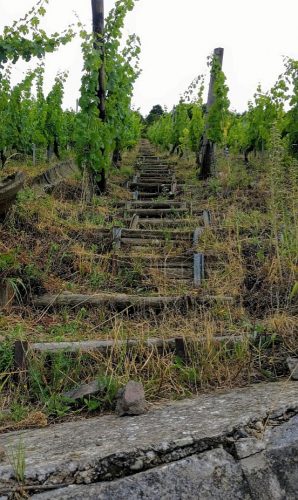 In a classic case of be-careful-what-you-wish-for-vuz-you-just-might-get-it, I then had to scale the greater-than-45-degree slopes of Alsace's southernmost (and by far its steepest) Grand Cru vineyard site, though the view (and the tastes) about 450 meters up were well worth a little breathlessness (PSA: if you consider yourself not exactly physically fit, you might want to skip a visit to Rangen). Think the Mosel, only steeper (yes, the vineyard workes use ropes to secure themselves from falling to their deaths during harvest), or the Douro (only with less terracing and more danger to life and limb). The only marring comes by way of the factories along the nearby Thur river, a holdover from the `50s. Otherwise, this spot between Thann and Vieux-Thann is thoroughly picturesque.
Rangen has a few other characteristics that distinguish it from the rest of Alsace's (many) GC sites. It might be one of the oldest of the region's Grand Crus, with the origin of its name being lost to posterity (the first recorded reference goes back all the way to the Thirteenth Century). The rocky soils are about 330 million years old, the result of older mountain ranges and volcanic extrusions all mixed up together. This makes for a harder-than-average vineyard soil, with dark components that help to retain heat, with a more fragile subsoil that allows deep penetration by the vine roots.
You'd think that, with the steepness, naturally low yields, and the fact that it takes new vines closer to seven years to produce fruit here (versus three years in more forgiving environments), that harvest would be a total bitch. But there's an even bitchier aspect of the Rangen for those that tend it…