Well, you may actually know about it, but that would certainly put you in better shape than I was when my friend and sommelier legend Randy Caparoso kidnapped me from Premiere Napa Valley in February, insisting that I spend some time in Lodi to see some down-home, old school wine farming.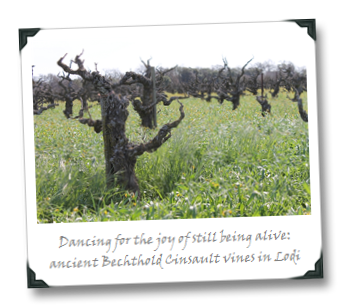 What I wasn't entirely prepared for was just how old that old school was going to be.
As in, going on 126 years old, old. Think about that the next time you read the words "old vines" printed on a wine label; you know, right before you think "well, hell, I know some really old vines, suckah!.
What Randy insisted on showing me first was Lodi's Bechthold Vineyard, nestled in the Mokelumne River area and home of Cinsault vines planted in 1886 on their own roots (on which they remain, thanks to sandy soils and a deep root system preventing the vine-killer phylloxera from picking them off) by German immigrant Joseph Spenker; the place has been continuously dry-farmed – and family-owned – ever since.
And the place is nothing short of magical, if you're a real wine geek. Because older souls you are not likely to encounter in California, unless your house is haunted or you live among the redwoods. And when you're done reading this, you hopefully won't wonder why I went ga-ga over the Single Vineyard concept for WBW75 (and be thirsting for some Cinsault, or Lodi wine, at least)…