Ask Quivira winemaker (sorry, winegrower, as they prefer to call him) Hugh Chappelle for the Cliff Notes version of their style, and this is what you'll get:
"One foot Old World, one foot New World."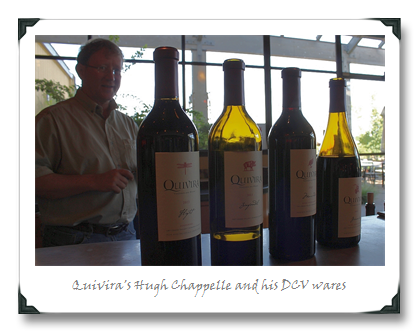 That's a pretty darned good summation, based on my recent visit to their Dry Creek Valley winery. I should give you a similar Cliff Notes version of the entire Quivira story, before we get into the wines: A corporate drug company executive (Henry Wendt) gets attracted to a spot in Dry Creek Valley in the `80s, and as a avid fisherman gets upset at the decline in fish population in the nearby creek. Conventional farming is blamed, and a move to sustainable farming and Biodynamics ensues in the mid 2000s, after which Pete and Terri Kight purchase the place. Now they have 93 acres planted primarily to Zinfandel, Sauvignon Blanc, along with a smattering of Rhone varieties such as Viognier, Grenache, and Mourvedre.
Quivira makes about 13,000 cases a year, using fruit from three estate vineyards, with a modest, restrained style that typically garners modest, restrained scores from mainstream wine critics.
Which, I think, means that those critics are missing the point of Quivira's wines, which isn't about conforming to a preconceived notion of how certain varieties – like Zinfandel – ought to be crafted (presumably into the highest bombast style wines possible). Maybe they're taking the wild boar on Quivira's label (a depiction of an adopted pet named Ruby who "died fat and happy" according to the Quivira staff) too literally, and assuming that you can't make a silk purse out of a sow's ear? Whatever…
Much of what Quivira seems to be about is turning those conventional notions of Californian Sauvignon Blanc and Zinfandel on their (sow's) ears…