"You can beat the sh*t out of something, and all you get is powdered sh*t!"
– Johnny Graham
As part of some prep work for recently-published Playboy Port Primer (For Your Holiday Port-ing Pleasure), in November I was a guest of importer Frederick Wildman for a lunch/tasting and dinner/tasting with Johnny Graham, the force behind relative Port newcomer Churchill's.
The F-W folks didn't actually know that I was sort-of on assignment for my Port Primer, but it turned out that Johnny Graham – to whom I now owe a return on a much-needed pre-dinner beer that he bought me en route to the evening event – had so much Port worth talking about that I wanted to highlight him here. I think I also owe him a beer for providing the above quote, which slipped out when we were tasting through some of the Churchill's lineup at F-W headquarters before our dinner, while we were discussing wines that exude finesse as well as natural concentration, versus those that simply display an overly-extracted sense of concentration (for an example of the former, try Churchill's elegantly understated Ten Year Tawny Port, which I likened to Sancerre – seriously – in terms of its prettiness).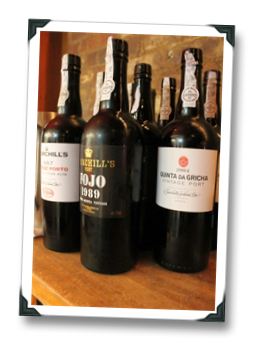 Anyway, the highlight of the visit was a trip to NYC's Hearth restaurant, where I finally got to see/taste what all the (well-deserved) fuss was about when it comes to Paul Grieco (and his massive soul patch), who did an admirable job pairing an entire multi-course meal to vintage Port selections from Churchill's (not an easy feat, even if the wines are quite good, since they're also quite demanding, and in some cases quite sweet – in short, a culinary mine field).
Graham's family Port biz started in the 1800s, and he told me that he was "fortunate, in my youth, I was able to taste vintages like the 1908s; Vintage Port can age 20, 50 years or more, and there just aren't many wines that can do that." To that end, given the sh*tload of non-sh*tty wines we tasted that evening, I hope you'll forgive me the  list-and-review style format post, but I thought it worthwhile to give you the scoop on several past vintages of Churchill's Vintages… including a sneak-peak at the yet-to-be-released 2011…