[ Editor's note: While the following article contains a serious view on – and producer recommendations regarding – recent Napa Valley Merlot vintages, it employs a facetious style that may or may not offend you, depending primarily on whether or not you posses a sense of humor. If you are easily offended and/or have misplaced your sense of humor, please take care in reading the article. Also, if you're a Merlot-hater who disagrees with anything that you find in this post, then you are wrong. And probably a jerk. Oh, crap… did I just offend you? Sorry… ]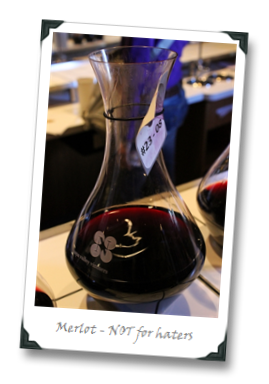 Last year, I had a run-in with Napa Valley Pinot Noir at a multi-vintage perspective tasting held by the Napa Valley Vintners Association at the Culinary Institute of America in St. Helena. It was… not a fun experience. In fact, it was sort of like having your palate beat up in a bar fight, with cigarette ashes poured over it for spite afterward, only slightly more dignified.
So it's with much relief that I tell you the 2012 version of the NVV perspective tasting was substantially more pleasant, and gave me the opportunity to go through a blind tasting of three different vintages (2007, 2008 & 2009) from nine different producers. I skipped the overly-crowded Cabernet tasting entirely (hey, the Premiere Napa Valley auction was the following morning, and there's only so much big-ass Cab I can handle in a 24-hour period) and went straight for the substantially less-well-attended tasting of that most-maligned of reds, Merlot.
After that short PNV Merlot immersion, I'm here to tell you a few things… but I want to start with this:
Merlot-bashing is for douchebags.
Seriously… over-generalizing to the point of hating on anything in the wine world is just plain stupid, because nothing contains more exceptions to prove the rules than the wine world. Hating on Merlot because a fictional character in a movie that is eight friggin' years old (the movie, I mean, not the character… an 8-year-old bitching about wine in a major motion picture wouldn't even be funny, it would just be weird) said that it makes sucky wine (and this is a character who actually drinks Merlot at the end of the same damn film)…? Well, that move is just so douchebaggy that we'd need to farm out design work to third-world sweat tech shops (hey Apple… are you listening??) in order to raise the manpower required to create enough instrumentation to measure the enormity of the douchbaggy-ness…