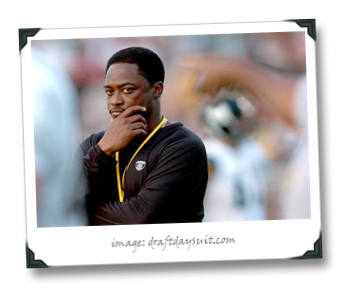 Today we will speak of current NFL coaches, former baseball catching stars, and Jedi Master Yoda.  And wine – almost forgot about the wine…
See, I've been getting a little bit of flak over how publicly I've worn my NFL team allegiance colors on 1WD. And so, true to form, I'm going to go deeper into that forest today. Because at heart, I am a stinker.
For days now I've been rubbing the almost-scabbed-over wounds of the Steelers dismal showing of a season opener against the hard-hitting Baltimore Ravens, because part of the healing process for sports fans after such a loss is wallowing in your pain and misery as long as reasonably possible, taking in as much about the heart-wrenching as you can, before letting it all (ok, most of it) go. Real fans know what I am talking about here – sure, the Steelers romping all over the Seattle Seahawks last Sunday salved the aching a bit, but c'mon – it was the Seahawks.
And so it was in that wallowing-mode capacity that I came across this little ditty of a quote by Steelers coach Mike Tomlin, when asked about the dreadful day one loss:
"I think the people that know and compete in this league understand that there is a fine line between drinking wine and squashing grapes. Obviously, last weekend we were grape-squashers."
Ah, the sanctimonious pleasure of shared pain! Tomlin's it-makes-sense-until-you-reread-it, Yogi-Berra-worthy reference to vino got me thinking about the difference between drinking wine – really drinking it and appreciating it, I mean – and throwing it down our gullets the same way we in the U.S. do with most of our food; which is to say, devouring it so quickly that it looks as if we're worried someone will come along and snatch up our plates if we don't clean them off within 4.2 nanoseconds…