"I can't review your wines, they have too much acid."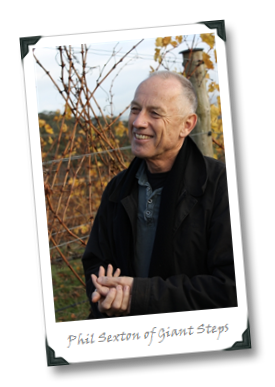 Those were words that a reviewer at one of the U.S. wine glossies told Aussie Yarra Valley producer's Giant Steps head honcho Phil Sexton (according to Phil, anyway).
To which Phil's reaction was, apparently, something to the effect of "but that's the whole point!" Linear acidity, mineral liveliness, longevity – those are clearly what Yarra Chardonnay and Pinot Noir are all about, if you taste enough of the stuff to be able to formulate an educated opinion on them. So Phil's response to that unnamed critic was certainly more… diplomatic than mine would have been.
Intrepid 1WD readers will know that Giant Steps Chardonnay has done very well on the virtual pages here, so when I traveled to the Yarra Valley to visit Giant Steps (also purveyors of Innocent Bystander wines and Little Creatures beer, as well as a bistro in the Yarra). So I was pretty keen to see how Phil's single-vineyard wines were doing in the U.S. market.
"We're likely to pull out of the U.S., actually," Sexton told me over dinner. The running joke of the evening was that I might have helped to sell the other case of Giant Steps in the U.S. with my previous high praise for their Chard. That was small beer consolation, though, and I 'm not talking Little Creatures; I was genuinely disheartened to hear that GS wines get little critical play, and few sales, in my home country, while the seemingly much (much) smarter Aussies are buying the hell out of them…