A couple of weeks ago, I cropped up in two totally unrelated places on the "Global Interwebs" – Playboy.com (which you expected, right?) and The Washington Post (which, admit it, you didn't expect).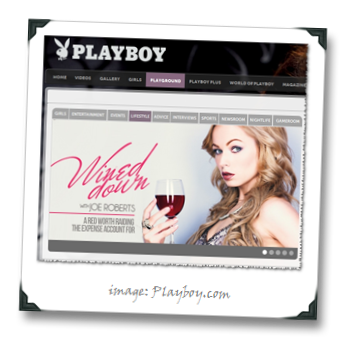 The Washington Post article, titled Some wineries adding a little hip to swirl, sniff and sip routine, was one of those rare instances where I was interviewed for a wine piece and then was actually quoted in the finished work. The quotes I've given to reporters have been so… well, probably so damned odd that my contribution to most wine-related article interviews seem to hit the cutting room floor more often than they do any column space. [ UPDATE: the original WP article link is DOA, but looks like Yahoo! News also picked it up so changed links to point to that version. Sorry! ]
I thought it worth mentioning because this particular AP article focused on wineries that were bucking the status quo in order to make trips to their tasting rooms more fun (imagine! the audacity!); the author had nice things to say about recent efforts in that space by Raymond Vineyards, Judd's Hill and Brooklyn Winery, and at one point quotes me:
"The wine world's about eight years behind everything with the exception of bottling lines and production techniques," he says with a laugh.
The thing is, I don't really recall laughing about it (at least not on the inside); if I did, it was I-work-in-an-office-and-this-Dilbert-strip-is-funny-but-it-also-really-hurts-because-life-in-my-office-is-really-like-that funny. I honestly believe that the wine world generally functions that far behind most other industries, and as amazing as the wine biz is, that lag is one of the most painful things about trying to get anything moving in the biz.
Anyway… on to happier topics…