[ Editor's note: here's one more from the vault of pieces sent to a magazine that didbn't publish it or pay me; I'm running it here so that it's not lost to posterity. Enjoy! ]
Not-So-Hidden Tuscany
One of Tuscany's most dynamic – and endangered – wine regions is hiding in plain sight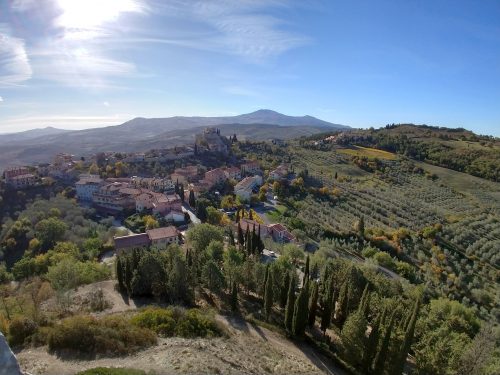 Donatella Cinelli Colombini could be your Italian grandmother. Affable, generous, and quick-witted, Colombini is the matriarch of Fattoria del Colle, her family estate in the almost unbelievably charming area of Tuscany's Trequanda, replete with accommodations on an estate that dates back to the late 1500s, cooking classes, three pool, a spa, and an upscale-farmhouse restaurant. She also also oversees production of the Tuscan wine label that bears her name.
But Colombini has another job: in some ways, she's trying to save the future of what the Consorzio del vino Orcia calls "the most beautiful wine in the world."
"The landscape here is a perfect harmony between history, man, and nature," she remarks. "We have to preserve that. Every month, every wine producer here receives a call from a realtor asking them to sell."
While you will almost certainly have heard of the winemaking gems of Montalcino and Montepulciano, you probably aren't familiar with Orcia, the winemaking area that sits between them near Tuscany's southern tip. The problem isn't that Orcia's twelve municipalities, formally recognized as a wine region in 2000, don't make excellent wine; in many cases, Orcia's reds rival those of its more famous neighbors, planted on vineyards that have been literally designed from the ground up for producing small quantities of high quality fine wine grapes, primarily Tuscany's "native son" of Sangiovese. The problem is that Orcia is almost too amazing of a place in and of itself.
Orcia boasts the kind of beauty that makes you think that you've stepped directly into a scene from Under the Tuscan Sun. Think sun-drenched hillsides lined with cypresses, dotted with tiny ancient towns like Pienza (housing a terracotta museum), terme thermal spas like those in S. Casciano dei Bagni and S. Quirico d'Orcia (yes, some of the spa treatments involve wine), and no shortage of gorgeous castle tower ruins along the routes between them all, replete with deep history and past political intrigue (the region once played host to the duke of Tuscany, who ordered the draining of the the valley in the 1700s to spur agricultural growth, but also used his time there to liase with his mistress). Orcia has seen travelers since the time of the Etruscans, and its castle and fortress ruins are a testament to the popularity of the routes within the area, where bandit attacks once were frequent. It has hosted religious pilgrims, popes, poets, archbishops, mercenaries, dukes, the Medici clan, and even Charlemagne. The landscape has remained relatively unchanged for the last four hundred years…