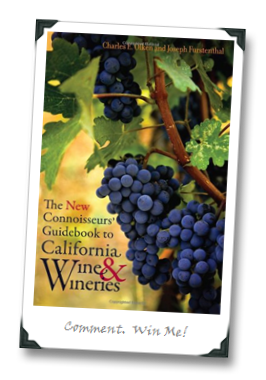 For the next act in my continuing saga as judge in the Georges Duboeuf Wine Book of the Year Awards, I wanted to detail the awards finalists that didn't make the cut for my top three candidates for this year's award (the three is not an arbitrary number, by the way – as judges, we were asked to pick our top three selections for the award from the seven finalists chosen by the event's organizers).
And, we're going to give away a copy of one of those books – Charlie Olken's excellent New Connoisseurs' Guidebook to California Wine and Wineries – to one lucky commenter!
Most of you know the drill: you comment, and in one week a winner is randomly selected from the comments.
Personally, I find myself swayed at least a little bit when it comes to awards like this, in terms of my wine book purchasing decisions.  I suppose that a part of me figures, Hey, if some people took the time to judge this thing against its peers and say it was good, it's probably pretty darn good – but all-in-all, when it come to wine book buying, I probably put more weight into jacket testimonials (especially when they're written by people that I know and respect).  So the question I've got to get our comentarios del blog de ​​discusión started is this:
Do awards factor into your wine book-buying decisions? Or are they like most wine competition medals (i.e., kinda meaningless)?
My thoughts on all of the non-top-three-listed finalists' books are below after the jump. I need to preface this by saying that these books are all worthy additions to the English-language wine book lexicon; they just didn't make my top three for the Georges Duboeuf award based on the judging criteria.  That competition was stiffer than the graphite neck on those headless Steinberger basses that Geddy Lee used in the `80s, so not making the cut shouldn't be treated as a slight; in fact, simply being included in the list of finalists for this year's award is a nod to the quality level of all of these books.  Now that I think about it, I might be getting in trouble by listing these finalists, but technically no one involved in the awards has said that I can't list them… so what the hell, here we go!
Next week: my take on the top three and my #1 pick for the award…