Ten years ago, on a trip with friends to New York's Finger Lakes wine country, I bought a few bottles of bubbly.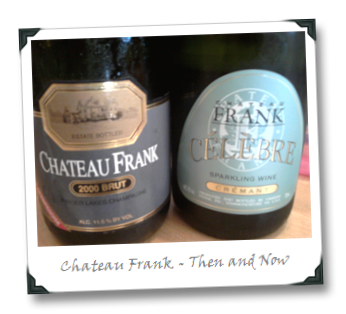 I was not a pseudo-wine-pro back then; I was an avid consumer (that term still applies!), and the majority of my vacation travel was centered around wine exploration.  I had a budding interest, passionate zeal, and I knew what I liked though I would have had a lot more trouble telling you why, or explaining how, a wine I liked got to that point.
It was one of those gorgeous sunny Autumn days that was quickly turning into a chilly Autumn evening (no sun = no heat) and most of the Finger Lakes tasting rooms were closed or moments-away-from closing; we happened upon what was then a joint-producer tasting room featuring only local sparkling wines.
I knew what I liked, and I really liked the 2000 Chateau Frank Brut that evening.  So, my girlfriend and I bought some.
Ten years later, at the surprise 50th birthday party of one of dear friends (who helped us greatly in getting through the tough times leading up to the recent loss of our Weimaraner, Samson, and to whom we gave a bottle of 2007 Quinta do Vesuvio so you know we love her), I had occasion to open the 2000 Chateau Frank Brut – Dr. Frank is one of the birthday girl's favorite wine producers (alongside the most recent offering of Chateau Frank's non-vintage Riesling sparkler, Célèbre Cremant).
And it rocked.
The fruit had started to subside a bit, but what remained was bready, lively, and wonderful; still fresh, still food-friendly, still (in the words of Simple Minds) Alive & Kicking.
An apt comparison, it turns out, for the state of NY wine in general…