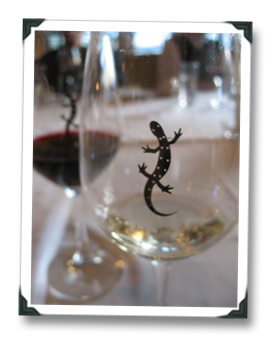 Sad news reverberated through the wine world recently, with particular resonance here on the Right Coast. Deb Whiting, whose culinary talents at Red Newt Bistro provided a near storybook compliment to her husband David's winemaking skills at the Finger Lakes winery that they co-owned, died last week in an automobile accident. David Whiting was also injured in the crash.

I count myself lucky to have been the recipient of the Whitings' hospitality a small handful of times.  I can recall raving to friends about the cooking at the Bistro after I'd visited as a tourist, years ago, long before the idea of wine writing had ever wormed its way into my mind.  That visit was during one of the first of what would become many wine-centric vacations for me, and it was one of the early formative moments at the start of my personal journey with wine.
Red Newt's wines are the kind that move people to expand their vinous horizons, and are among the best in all of the Finger Lakes.  It's not just the better-known white wines like Rieslings and Gewurztraminers that are Red Newt stand outs, either: David's 2007 Sawmill Creek Vineyards Cabernet Franc and 2007 Glacier Ridge Cabernet Franc are grand, stunning Right Coast reds, both of which had me swooning when I sampled them at Taste Camp East, just over a year ago.
I didn't really know Deb Whiting – I only knew of her accomplishments.  But others who did know Deb well have been celebrating her life in touching statements over the past several days…