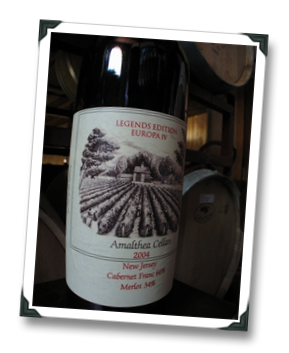 If you take a map of the Bordeaux winemaking region and flip it upside down, it becomes a (more-or-less) mirror-image of the Delaware Bay area that houses the New Jersey's Outer Coastal Plain (OCP) AVA.
Yes, that would be South Jersey.
Yes, they make wine there.
Better wine than you might at first imagine, actually.
Of course, the inverted mirror-image likeness is about as far as the comparison between South Jersey and Bordeaux can go – after that, you have (very) different soils, (wildly) different average temperatures, and (incredibly) different winemaking histories.  But the point, which was being made to me by OCP winemaker and Amalthea Cellars owner Louis Caracciolo, was pretty clear: if you have a body of water to help mitigate the climate, why not try to make fine wines?  Even if it is in Jersey.
I recently had the pleasure of visiting Amalthea with fellow bloggers John and Lisa Howard-Fusco, who run the fine locavore-styled website Eating In South Jersey.  I was tagging along as the wine guy, helping to assess what they considered to be some of the more promising wines being offered from S. Jersey.  The payoff for me, aside from expanding my wine brain and getting to hang out with John and Lisa, was being introduced by John and Lisa to one of S. Jersey's best worst-kept secrets – roadside BBQ joints (read John & Lisa's take on the post-tasting BBQ goodness here).
At the time of the visit, I'd enjoyed enough of Amalthea's wines to highlight the OCP region over at the Wine Crush Blog as a spot to watch – or, at least, as some evidence that no self-respecting wine geek should scoff at the notion of quality cool-climate, East Coast reds.
Which isn't to say that all of the Amalthea whites are bad, or that all of the reds were great.  But it is to say that I'm not sure if Amalthea's Louis Caracciolo is a genius, or a nut-case…