I recently received a shipment of wine samples from the critics' darling Molly Dooker, which came with a handy set of instructions on how to perform the now-famous "Molly Dooker Shake."  The Molly Dooker shake is the arguably inelegant but certainly effective way to release the nitrogen that is used is bottling several of the Molly Dooker line of wines.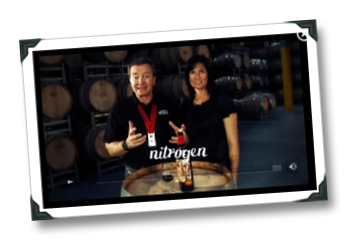 But I ran into some trouble when I hopped onto the Molly Dooker website to learn a bit more about why they use nitrogen in the winemaking process in the first place.  Not technical trouble, but accuracy trouble.
The accuracy trouble is that their explanation contains less truth than it does (as Steven Colbert likes to put it) truthiness.
Here's the explanation, given both on the Molly Dooker website and in the demonstration video of the Molly Dooker shake; I've added comments to the quote below to indicate the parts that as far as I can tell have Truth and those that have truthiness:
"Why do we use Nitrogen gas in our winemaking? Sulphites are often added to wine after fermentation to protect the wine from oxidation [Truth]. The only problem is that some people have an allergy to high levels of sulphites [Truth] and may get headaches [truthiness – if they mean getting headaches from sulphites, that is]. By using Nitrogen to protect the wine during winemaking, we can use less sulphites [Truth] and more people can enjoy our wines [truthiness]."
Now… let's break this truth vs. truthiness down in a little more detail…