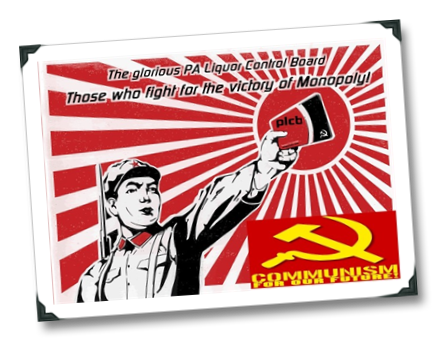 It's been a while since I railed against the Pennsylvania Liquor Control Board.
Not that they haven't deserved a good railing in the interim, I've just been busy with other topics, and the PLCB has been busy raiding PA bars at great taxpayer expense and with no justifiable reason, so they've been dealing with plenty of bad press anyway.
But this week, something got published that I had to rail against.  Because, quite honestly, the news is an embarrassment for Pennsylvania taxpayers whose hard-earned cash is going to help fund a government that is supposed to be controlling wine sales in the state, but instead is taking a puke all over customer service and adding almost no value to the average PA consumer.
This news comes by way of Lew Bryson's excellent blog Why The PLCB Should Be Abolished (hey, at least you know where he stands), recapitulating a Scranton Times-Tribune blog article by David Falchek.  In said blog post, Falchek describes a friend's encounter at a PLCB wine & spirits store in which a PLCB employee denied the existence of Cabernet Franc.
Not the existence of a particular bottling or brand of Cabernet Franc. The employee denied the existence of Cabernet Franc itself.
Yes, I am totally serious, and No, I have not been drinking…