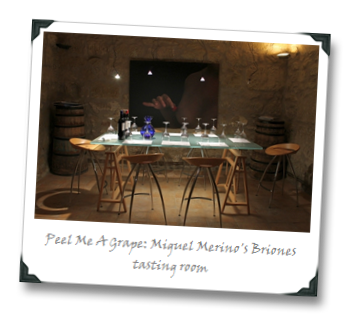 "In Spain, when you're fifteen, sixteen years old, you have to decide what you want to study: Science or Humanities," joked Rioja's Miguel Merino.
"I chose Humanities… so I can't let the wine go wrong, otherwise I won't know what to do to make money!"
The diminutive Merino, who spent twenty years in various aspects of the wine business before deciding to try his hand at his own wines, is like a breath of air that's fresher than the scent of the roses that line the experimental vineyards in front of his winemaking facility in the Rioja Alta area of Briones. While medieval town and its Moorish architectural influences are thoroughly traditional for this area of Spain, Merino's wines are made with a decidedly modernist stylistic twist.
But these are not the boorish, overly-extracted oak-monsters that have come to symbolize Rioja's modern red wine bent – they carry the charmingly poised sense of reverently balancing on the shoulders of Rioja's best traditions when it comes to winemaking; and their acclaim (Merino now exports to over thirty countries) is, as you will shortly come to read, well-deserved. And it helps that Merino himself is just about as humble, and about as far removed from the overblown, removed sense of self that marks some of Rioja's biggest modern winemaking stars, as one can get…