"See, this pisses me off…"
Rob Mondavi, Jr. is upset. Moderately. It's almost difficult to imagine why, given the sunny day, and the subsequently stunning Napa Valley view from his family's Animo vineyard on Atlas Peak. But moderately upset he is.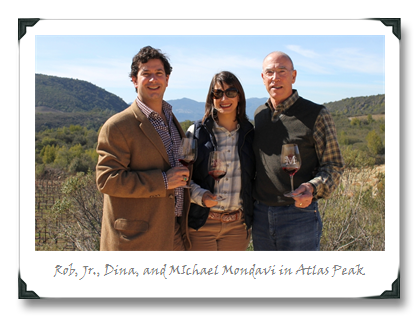 The trigger for Mondavi's small bit of angst? The spacing of the pruning cuts on some of the vines isn't uniform. One is reminded of the scene in The Aviator, when Leonardo DiCaprio's Howard Hughes is running his hand down the side of an airplane hull, testing to see if all of the rivets are totally smooth.
Rob Mondavi, Jr. is, it seems, a bit of a perfectionist, particularly when it comes to viticulture (as he remarked to me during our vineyard lunch, "the biggest challenge in Napa is that we've become complacent in farming"). An amiable perfectionist, with the Mondavi flair for gab and working the crowd, but a perfectionist nonetheless.
As it turns out, Rob's excellent high-end wines can almost be too perfect, polished smooth to a such an glistening, art deco metallic sheen that one might start to pine for a blemish of any kind; not that the wines lack soul, it's just that you want to see and feel more of that soul.
But we're getting ahead of ourselves, aren't we? Back to the vineyard, where the view is lovely and the scenery, apart from vines, is of liberally strewn about rocks, rocks, and more rocks on this volcanic soil…