"You're actually the first journalist to see this."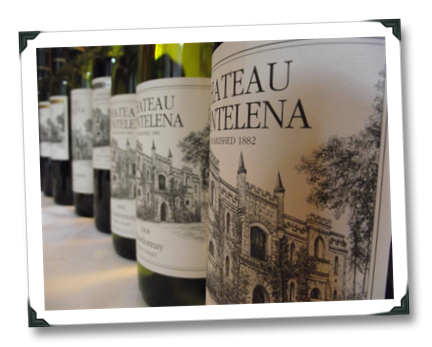 Loaded words spoken to me when walking down the back staircase at Chateau Montelena to the cellar room. And they're not just fully-packed AK-47 words because I've received no formal training in journalism; it's because there's pressure when someone trusts you enough let you take a peek into the dirty underwear drawer of a movie star.
Ok, so it's not actually a dirty undie drawer; but it's the equivalent, anyway, when that movie star isn't a recognizable pretty face plastered across billboards and silver screens worldwide, but is a winery.  And make no mistake about it, Chateau Montelena is, indeed, a movie star.
The steady stream of tourists and visitors arriving right on my heels at 9AM, popping photos of the Calistoga winery's iconic stone castle exterior was evidence enough of that, considering that your average Napa Valley wine country tourist turns around once they hit downtown St. Helena on Route 29.  If you want to visit Montelena, you have to find Montelena, and to find Montelena you have to be going slightly out of your way; you have to be looking for it.
The recently-expanded parking lot is the best evidence of Chateau Montelena's new-found popularity – where they previously got by with space for about eleven cars, they've had to expand to a new lot that can accommodate several times that number. It's all part of the strange dichotomy that seems to have defined the image of Montelena in the minds of wine lovers over last few decades: a familiar name and yet not a familiar destination.  Even though its name became etched into the consciousness of U.S. wine lovers after Chateau Montelena's then-unknown Chardonnay bested its more celebrated French counterparts in the famed 1976 "Judgement of Paris" tasting, real fame – movie star fame – didn't come until 2008 when the movie Bottle Shock hit the theaters, giving the `76 Paris tasting the Hollywood treatment.
Too Hollywood, as it turns out.  Ask Montelena's assistant winemaker, Matt Crafton – who as a lanky, tall, affable, laid-back-but-knowledgeable guy seems to fit like a glove into Montelena's NorCal culture – how accurately Bottle Shock portrayed Montelena's history, and you get a pause, followed by a smile and an answer that says everything by hardly saying anything:
"Well… There was a Paris tasting; the Barretts did exist; we did win."
All the rest, as they say, is basically Hollywood bullsh*t…