Mashable.com – the über-popular purveys of tech and pop-culture news – recently ran an op-ed style screed by Sandra Garson bemoaning the phenomenon of everyday folks blogging their exploration of food, and in particular, their forays into cooking. In other words, Garson decries the proliferation of food blogs.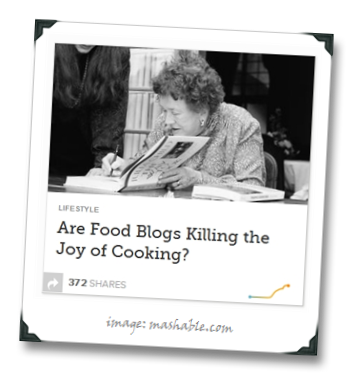 Here's a snippet of Garson's article, which I think best sums up her anti-food-blog stance:
"The Internet has made the most important kitchen tool no longer the knife, or the rolling pin, but the camera. If you can't take stunning, high resolution photographs of your work, you don't count as a cook. They are indeed stunning photographs: the luscious, carefully styled, pornographic kind. Those photos arouse you. They get your blood racing, your stomach pumping. You are excited and want closure, satisfaction… You want to eat that right now.

Bah, humbug. Those of us who can't make a dish look so perfectly luscious are probably going to feel inadequate and pass on learning to cook… On full display is how hungry we are to be seductive and to be number one; how obsessed we are by excitement. Sadly, what's harder to see or taste is the way to cook."
Garson underscores her points that food blogs are 1) scaring people away from cooking, and b) are too commercialized and self-centered, by contrasting food bloggers (largely made up of consumers and everyday citizens) with… Julia Child.
Which is sort of like comparing the holiday soccer games I play with my friends to the World Cup. Or comparing wine blogs to Gerald Asher (you knew this was coming around to wine, right?).
And so in Mashable's article we see a reflection of nearly every misapplied criticism that has been levied against wine blogging over the past five years, which we might summarize as "wine blogs are killing the joy of drinking!"…