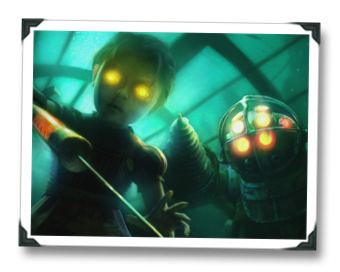 This may be the first time that anyone has compared a high-end inaugural Napa Cabernet with a creepy video game. Probably because no one has been quite foolhardy cavalier enough to try it before, right?
The wine in question is a sample of Wallis Family Estate's "Little Sister" Cabernet Sauvignon, which is seeing its first release with the bottling of the 2006 vintage; only 300 cases were made.  Wallis produces a (much) more expensive Diamond Mountain District Cab, hence the "Little Sister" moniker for the new release, a lower-priced (but still pretty expensive at $40) version that shares estate fruit with fruit from the wider Napa Valley.
And it was the "Little Sister" moniker that got me free-associating with the creepy video game.
The game in question is the award-winning Bioshock, which I stopped playing because, well, it's creepy. The game is beautifully rendered, and the play is fantastic, but… it was just so damn serious.
Let's see, for those unfamiliar with the plot of Bioshock, this ain't gonna be easy…
Bioshock takes place in the 1960s in an enclosed underwater world called Rapture where society has completely broken down. The survivors of Rapture are genetically-enhanced, murderous psychopaths who are addicted to the substances that allow them to control their genetic powers.  Spooky school-aged girls called (wait for it…) Little Sisters (with sea slugs embedded in their stomachs – yeah, I know, just go with it) roam the halls of the underwater world, protected by huge, explosives-tossing zombies in antique dive suits, wielding large needles which they (this is the Little Sisters now, not the huge dive suit guys) use to extract the genetic super-substance from any dead psychopaths they come across.  Whew.
I told you it was creepy!
Anyway…