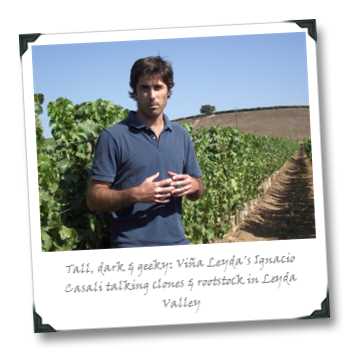 Even though I'm a thoroughly-clueless heterosexual, it's obvious even to me that Ignacio Casali – Viticulturist for Chile's Viña Leyda – probably has had little trouble attracting the ladies. Ignacio possesses the kind of strong jaw and rugged, 5:00-shadow good looks that likely mean he has never had to struggle through hours of vivacious small-talk well-timed humor, and cajoling (the way that guys like me have) in an effort just to appear attractive when buying a girl a drink.
But before you eligible bachelorettes start emailing me for Ignacio's number, you should know that if you ever do meet him it's very unlikely that you'd be listening to Ignacio wax poetic about how your eyes resemble the nearby ocean (the Leyda Valley is located a mere 12 km east of the port area of San Antonio in central Chile).  No, no, no – you are far, far more likely to hear him wax poetic about the far, far less sexy topics of rootstocks and vineyard clones from U.C. Davis.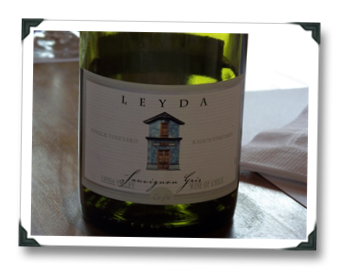 You see, Ignacio is a wine geek, tried-and-true, and he's clearly most at home in Leyda's vineyards, talking about their experimental half-circle / fan-shaped plantings of vineyard rows (those look pretty odd, by the way), or providing details on which rootstocks are planted where (and why) on the property, or expounding the subtle differences of UC Davis grape variety clones and their soil suitability.
Still want that number, ladies?
To understand why there's such a geeky focus on clones, vineyard management, and a sense of experimentation at Viña Leyda – and to really get to know the details behind some of their crazily-overachieving wines – you need to understand the lay of the Leyda Valley land, and educate yourself on some details about the Chilean wine market…