Technically there was a holiday this month, but I could not bring myself to hazard conjuring up some long-shot wine pairing for St. Patrick's Day in March.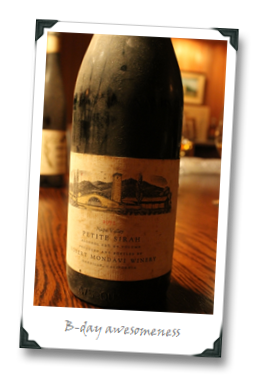 Just… uhm… No. No way.
Anything along that vein is (being kind here) a desperate stretch. I mean, look, why would you even do that? What's wrong with beer? [ A: the last time I checked, nothing. ]  I'm actually the worst person to ask about the subject anyway, because St. Patrick's Day happens to be my actual birthday. So for me, that "holiday" wine pairing usually falls squarely into the category of "whatever the f*ck I feel like drinking, no mater what food is being poured, and preferably something bubbly and expensive." But then, with my daughter's birthday falling less than a week later than mine, these days at 1WD central we more or less give my birthday a passing wave hello/goodbye. "Happy birthday honey. Ok, so, did you order the dolphin place-mats yet for all of the kids coming to Lorelai's party?"
Despite the daughter birthday madness, and the inevitable hangover resulting from the amount of alcohol one has to imbibe just to survive hosting a dozen 5- and 6-year-old children for a birthday shindig, I managed a few non-St.-Patrick's-Day tidbits for the Wine.Answers.com gig in March (they are paying for the stuff, after all!).
And, I did celebrate the birthday in serious style, vinous-wise, as you'll witness from the inset pic. More on all of that below…