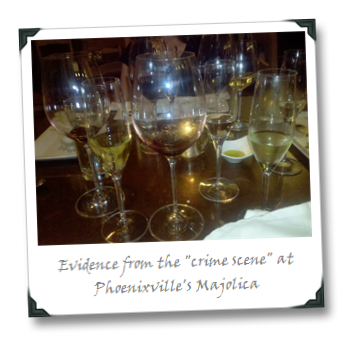 Last week, I had the (relatively rare) treat of a double-date night with our groovy neighbors.  Since this excursion into the (now strangely fascinating) world of conversation that doesn't involve Elmo took place at a fabulous BYOB joint in (a recently revitalized and restaurant-friendly) downtown Phoenixville, PA – Majolica – you might actually care, in a "tell-me-about-the-BYOB-part" kind of way. All of the wines mentioned below were samples, from different sources and picked (somewhat randomly) for the event.
Double-Date Night (DDN) began, as most quality date-night's do, with a sparkler: in this case, a non-vintage NV Lamberti Rose Spumante.  I hadn't had a Spumante in what felt like forever, so I was stoked to try this.  Our waitress just about recoiled from the aggressive opening procedure of this bottle; the only thing keeping the cork from achieving escape velocity into Earth orbit was the (now slightly worse-for-wear) Majolica ceiling.  That should have been a warning sign about the aggressiveness of the mousse on the Lamberti, but I ignored it anyway and I nearly injured my brain when I stuck my schnoz into the glass for a good sniff.  When the aggressiveness died down a bit, the flowery components really came out (a function of the Charmat method of production, I suppose?) but overall it's a wine for Now and not a wine for "Wow!"
For appetizers, I went for a 2009 Nobilo Icon Sauvignon Blanc (a fave of the groovy neighbors).  I get a good deal of grief for liking the larger-production New Zealand SB producers, but there's something to be said for going with a winning formula and overall I really dug the aroma profile of this wine, though it was also a bit aggressive (our dinner table review was summed up as "it's like having gooseberries shoved up your nose while you're mowing the lawn; but in a good way").
It was the final two wines of the DDN, however that were, for me, the real winner and loser of the event – for which I expect I'm gonna get some more flack…