[ This is part three of a short series covering my tenure as a judge in the 2011 Lake County Wine Competition – for more details, check out Part The First and Part The Second. ]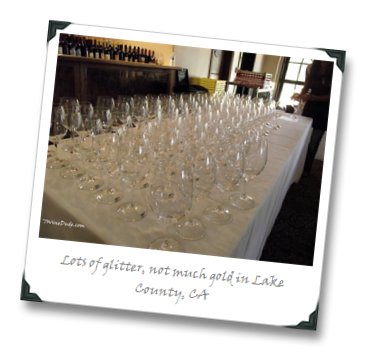 The Gold Rush in California dried up more-or-less 150 years ago. And the 2011 Lake County Wine Awards results didn't do much as far as opening the floodgates back up when it comes to CA gold: out of 180+ entries, we awarded eleven gold medals – roughly six percent of the total entries.
While one might not expect a wine competition to result in a large number of gold medals (and one might cast a wary eye on any competition that did dole out a high volume of golds, anyway), I suspect that having a relatively low number generally in this case is a result of two things: 1) the as-yet-unrealized potential of Lake County's fruit, and 2) the fact that it's not really practical to decant the big red wines prior to the competition, and so those that need time in the glass to fully develop just didn't have a totally fair shake to strut their real stuff.
But we shouldn't ignore the fact that golds were, in fact, handed out – as it turns out, those gold medals were awarded to a pretty interesting cast of vinous characters, each worth discussing in a bit more detail…