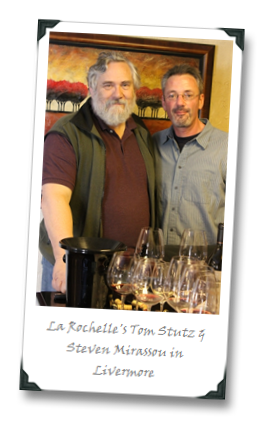 After six generations of pressing grapes in California, the Mirassou family has only one son left who owns a wine brand: Steven Mirassou.
But he can't legally use his own name on his bottles, despite the fact that Mirassou's have been making wine since the mid-1800s, probably longer than any other CA winemaking family. He cannot use the family name because Gallo picked up the Mirassou brand in 2003. David Mirassou now represents that brand for Gallo, but the San Jose winery where they once made their products is long gone.
The family-name-scooped-up-by-the-big-conglomerate story that seems to be rampant in the wine world (whether you're a Mondavi in CA or a Taylor in NY) doesn't seem to have slowed Steven Mirassou down much, though.
After setting up shop under the Steven Kent brand (which is as far as he can go legally in terms of sticking his name on the bottles) in Livermore, along with La Rochelle winemaker Tom Stutz he's crafting some of the most stunning – and exciting – wines in all of California…