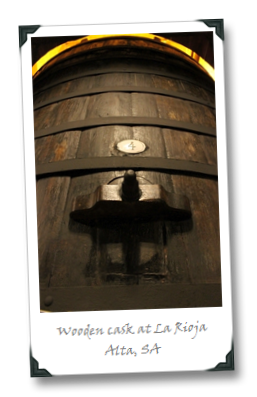 There's a scene at the end of Raiders Of The Lost Ark (please don't tell me you haven't seen it… it's only the greatest action/adventure flick yet made by humans) where an unnamed warehouse worker wheels a large box, presumably containing the Lost Ark of the Covenant (which turns out to be a WOMD) into a massive storage complex, through what appears to be miles of boxes stacked dozens of feet high.
Walking through the enormous barrel storage rooms at venerable Haro producer La Rioja Alta, S.A., anyone who remembers that closing scene from Raiders is bound to experience an eerie sense of déjà vu. Same goes for those strolling through LRA's underground walkways and barrel storage areas – there are literally millions of bottles of wine slumbering in that quiet earth.
In fact, just about everything at LRA's Haro location, aside from the tasting room (one of the few Rioja producers who even have one, and one which demonstrates a clear design love affair with high-gloss surfaces at that), feels oversized; from their display cases and production museums, down to the cask rooms and wooden casks themselves. Even their private tasting area has a huge open space smack dab in the center of it, as if a god with a magic iPhone had grabbed the corners of a normally-proportioned conference room and pinched-and-slid it to expand it to three times its normal size.
All of which makes it all the more interesting to a wine geek, weaned on the notion that truly great wine is only made in tiny quantities, that LRA's large (okay, ginormous) production volume doesn't get in the way whatsoever of the quality of their wines.
In fact, in tasting the wines from La Rioja Alta, one gets the sense that every hour of their near 125 years of winemaking experience has somehow been put to good use; the lineup includes not only some of Spain's most long-lived and elegantly complex (and expensive) reds, but also one of Europe's most stunning red wines bargains…