"This would be impressive, really, if you could see any of it."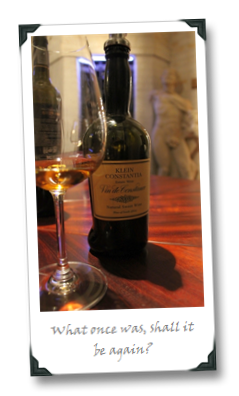 We're driving through a winding, makeshift "road" of mud and ditches in the hills of Constantia. I'm wincing in sciatic pain with every bump, which come approximately forty nanoseconds apart courtesy of the damage done by a South African winter of intense rainfall and flooding. The impossibly young winemaker Matthew Day is my guide on a day in which the clouds have decided to settle almost directly on top of Klein Constantia's mountainous estate vineyards.
It doesn't help that I'm also having panic attacks with almost as much frequency as we're encountering those bumps, thanks to what the orthopedist told me about my blown-out lumbar disk, just before I left for South Africa: "you should be okay to travel… but if your ankles roll, or you loose control of your bowels, then that's a medical emergency that will require immediate surgery."
Loose control of my bowels?!??? This is NOT what you tell a borderline-hypochondriac who's prone to anxiety attacks right before he's about to get on a plane for two days of non-stop travel!
Let's just say that it's tough to focus on cloud-covered viticultural beauty when you're irrationally-but-constantly worried about literally loosing your sh*t.
There's a point to our vineyard tour, which we have to abandon early due more to the poor state of the muddy roads than to my physical and mental issues. Day looks out at the wet mist; "our goal is to farm here for the next three hundred years, and we only have this soil to do it; so we're trying to get away from the 'old style' of farming."
The "old style" – spraying pesticides, conventionally farming – is about the only "old" thing from which Klein Constantia is attempting to move away. Otherwise, the focus is to restore the quality behind a name that was once synonymous with the greatest wines in the world…