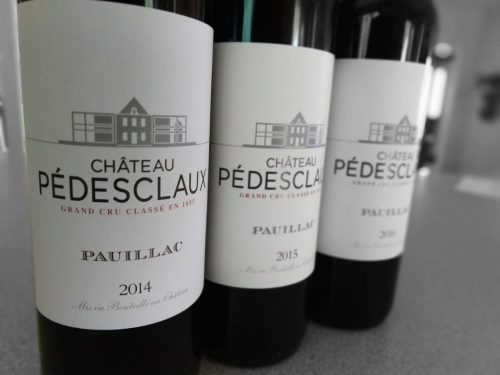 Ah, good old, dependable Château Pédesclaux.
Well, for those in the know when it comes to Bordeaux, this Pauillac producer was dependable for decades… in that one could usually depend on it to under-perform.
Established back in 1810 by the wine broker who gave it its name (Pierre Urbain Pédesclaux), Pédesclaux rose to prominence rather quickly by Bordeaux standards, being classified as Fifth Growth in 1855. The 20th Century saw successions of ownership and neglect; at one point in the 1950s, the estate was tagged for demolition.
In 2009, Pédesclaux was picked up by Françoise and Jacky Lorenzetti (owners of Chateau Lilian Ladouys), who, according to current manager Vincent Bache-Gabrielsen (with whom, through the miracles of modern technology, I had a nice remote online chat) set about to "legitimize" the estate. This started with the vineyards, which were replanted, reworked, expanded, and eventually given a treatment so detailed that they are now classified into nineteen different terroirs (ranging from gravel to limestone to clay), vinified into 116 different tank fermentations, and aged in barrels from nine different coopers, all to make about 270,000 bottles of just two wine labels.
The aim now is to surprise with a bit of over-performance, even at the $50/bottle price tag. Bache-Gabrielsen put it this way: "The idea is to have freshness, tannins that are just mature, and to make you salivate and want another glass." Pédesclaux now puts a borderline-obsessive amount of effort into their Grand Vin's texture. "We want precision in our tannins," Bache-Gabrielsen explained. He describes their harvest as "al dente" (now my new favorite term for picking ripeness).
The result? Pretty damned nice…
Read the rest of this stuff »