"Our competition isn't Napa Valley; it's Bordeaux."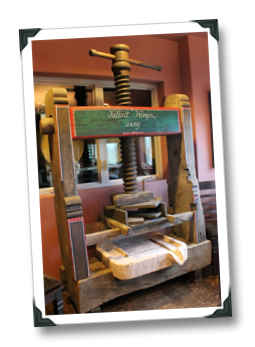 That's how Lou Kapcsandy sums up the goal of his 3,000 (ish) case production winery, a building that nestles up to about 15 acres of vineyard land that formerly went into Beringer's `75 Private Reserve ("we purchased it in 2000 without them knowing anything about it," he told me), and which might best be described as 'polished-industrial.'
But that kind of upscale nondescript casing is fitting for the no-nonsense Kapcsandy, particularly when you consider that he's a former chemical engineer and wine importer (not much use for flash in those endeavors).
But just wait until you get a load of what Hungarian-born Kapcsandy has going on in the vineyard and inside that Napa Valley production facility; you engineering types are gonna get a slice of geek heaven out of this.
Let's start with the land: the Kapcsandy's had 34 (!) pits dug into the vineyard for analysis, concluding that "literally within fifty yards, the growing conditions are different" on the heavy clay-ladden former riverbed. "At one point," according to Kapcsandy, "it was 118.5F in the vineyard; the next morning, the same spot was 50F." NASA-style satellite imagery was employed, convincing them to plant the vineyard along a magnetic north-south orientation, and dense plantings. Fruit is dropped, pesticides are avoided when possible, and generally Lou Kapcsandy frowns a lot when talking about ""what he calls "vineyard gymnastics."
The results are mostly red blends that, in my experience, stand up to Napa's best (and particularly shine come Premiere Napa Valley time – those tastings are what prompted my visit to the Kapcsandy's in the first place). Expensive, for sure, but ludicrously good. Which is why I am waxing poetic about them here in the first place, of course.
So… yeah, let's geek out on the in-winery stuff now…