Closing in on the ninth decade, the beret and the smile are still unmistakable.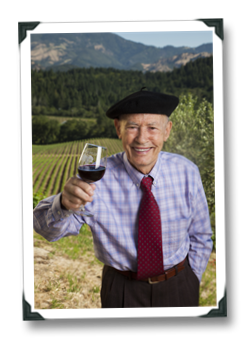 Miljenko "Mike" Grgich, now a California winemaking legend, turns 90 this year. For those who aren't familiar with the tale, Mike's life story could make fitting fodder for a TV wine drama: one of eleven kids; stomped his first grapes at age three; fled communist Yugoslavia in the 1950s; hit the Napa Valley wine scene just as it first began to bud, studying under the master André Tchelistcheff; for all intents and purposes, practically invented the sciences of controlling cold sterilization, malolactic fermentation, and the proper use of oak barrels for wine; eventually went on to establish well-regarded and successful wineries under his own name.
The biggest feather in the beret, though, was the triumph of one of his wines – a Chateau Montelena Chardonnay – at the 1976 Paris tasting, an event that put California (and, to a large extent, all U.S. wines) back on the global fine wine map for good (for a detailed account of that fabled tasting, check out George Tabor's excellent Judgement Of Paris).
Mike has been sunning himself in Palm Desert, but I was invited to catch up with him over email to talk about his wines and his legacy. At 90, the guy is still a sharp as a tack. Here's the conversation I had with Mike, which includes his advice for advancing your own tasting prowess, followed by a few thoughts on some recent releases from the apple of his vinous eye, Napa Valley's Grgich Hills…