Jeff Smith, of Hourglass wines (and who, incidentally, just took the rather bold move of parting ways with long-standing and celebrated consulting winemaker Robert Foley, and bringing on Cade and Plumpjack alumnus Anthony "Tony" Biagi), knows his Napa Valley wine history.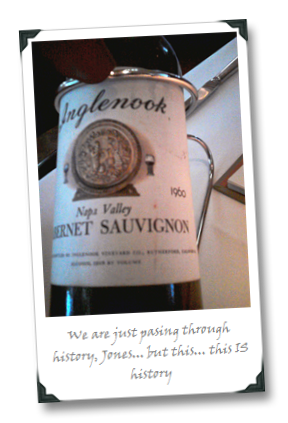 Fortunately for me (more on that in a minute or two).
Smith's roots are there, as grew up in the Napa wine scene, his family having now seen the whole kit-and-caboodle; from the bootstrapping farmers who, in his words, "picked up the scattered bones of an industry after Prohibition and phylloxera," to the influx of outsiders flush with cash and dreams of world-class vanity projects on which they could invest (squander?) their fortunes.
In other words, Smith remembers when it was pronounced Mon-DAY-vee and not Mon-DAH-vee.
Napa's is a winemaking history that many a wine lover has heard about, but few have really delved deeply into from a visceral standpoint, simply due to the fact that there isn't much of the wine from those "old days" around to taste, most of it having been imbibed, or gone bad, a long time ago.
The really fortunate part for me was that when Jeff and I caught up over dinner at Press in St. Helena, he was in the mood to reconnect with the Valley's roots, by way of directly sampling some of Napa's history… from about the time when his former employer Robert Mondavi nearly single-handedly reinvented the Californian fine wine scene…