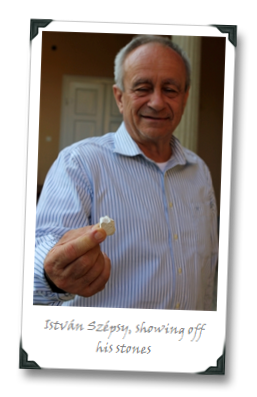 István Szepsy…
…is a Hungarian man with serious stones.
And he will gladly show them to you, if you ask. Actually, I think he might show them to you even if you don't ask. He has them laid out on his front porch; dozens of them, organized by 21 different dulo (basically akin to climat). Of course, since we are talking about István Szepsy, not all of the dulo areas represented by his stony display are official; some are his own classifications, harkening back to a map of Tokai region parcels that dates back to 1816. Sixty percent of the holdings are recognized as first class vineyards under the current classification system in Tokaji.
At this point, we should pause and set up a bit of context for you: En route to my visit, my Hungarian handler (himself a winemaker and wine critic) introduced Szepsy like this: "I am now taking you to see the best winemaker… in the world!" So expectations were kind of high by the time we pulled up (late, of course – hey, we were in Hungary, after all! – with the small man himself waiting somewhat impatiently outside the gate) to Szepsy's estate in the town of Mád.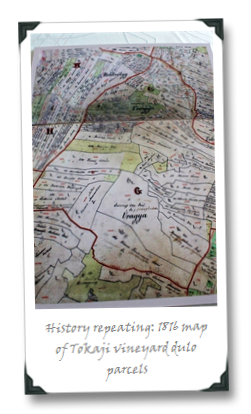 History suggests that Szepsy should know what he's doing when it comes to crafting wine in Tokaji: his family has been making wine in the region since (at least) the late 16th century. István Szepsy senior managed to hide a small independent vineyard parcel from the ruling Communists until the 1970s, so it's not difficult to imagine how István junior got his independent streak. During the socialist regime, he planted about four hectares of his own vineyards, delivering the yield to the state combine until the ruling party changed in 1990.
Since then, Szepsy has pretty much focused obsessively on quality wine production without looking back: out of 52 hectares of plantings, less than 50,000 bottles are made. It's now a total family business, and no second wines are made (whatever doesn't make the cut is sold out in bulk). As Szepsy told me, "it's a very fragile balance economically." I doubt too many would want to try to get this guy to change his mind, though.
Back to the guy's stones…