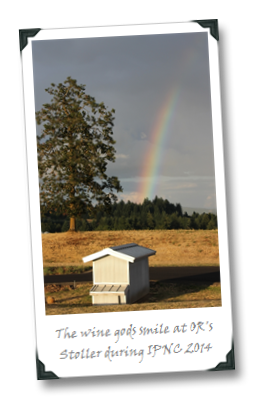 As you read this, I'll be in Hungary, a trip of which half is a curated media tour, and half a working stint doing video interview stuff that I will discuss later, but about which I am particularly excited (not just because it's a paying gig, but also because it involves one of my personal fave white wine grapes, one that is seriously underrated and underrepresented in the U.S. market at the moment; much more to come on all of that soon).
Today, I'm going to be talking about a different paying gig that I recently took on, and a previous media jaunt.
The gig is a monthly run over at Snooth.com, and in the first installment (for the September "edition") I dish on some of my favorite wines from the the IPNC 2014 alfresco tasting, held in the pre-dinner hours on both days of that event (the next installment will be on Chablis… I know, life is hard, right?). I also photo-bomb Sokol Blosser's vineyard view in that piece (sorry, guys!).
Now, the Snooth article is only so long, and I found myself with a smattering of other fine Pinots about which I wanted to pontificate, but for which we just didn't have enough room in that first article. And since this is my blog and I can pretty much do whatever the hell I want here, today we'll be pontificating on those leftovers, which are themselves totally capable of making a superb, captivating meal. Think of them as the post-Thanksgiving turkey sandwich lunch of IPNC 2014 Pinots…