Until a little over a week ago, I'd never had a one hundred and eleven year old wine before.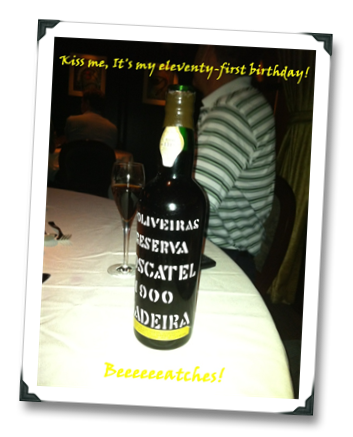 And when heading out to dinner in downtown Chicago, I hadn't expected to run into a wine that was celebrating it's eleventy-first birthday; I mean, does anyone ever expect to run into anything celebrating 111 years on planet Earth, apart from Bilbo Baggins when you're cracking open The Fellowship of the Ring for, like, the eightieth time? (C'mon closet LoTR geeks… you know you've done it…)
The scene of the crime (those words have probably started a lot of stories about Chicago…) was the new (by downtown Windy City standards) steak joint Benny's Chop House, whose wine list is both extensive and, one could argue, extensively marked-up. My dinner-mates were not in the wine biz, but – luckily for me – had generosity and money to spare. Because I'd noticed, in Benny's bar's bountiful body of wines by the glass, a Madeira from 1900.
I've had Bordeaux of just about all stripes dating back to the `60s and even a classic from the `20s, and had the good fortune to taste German wines that pre-date my appearance on planet Earth from celebrated producers in celebrated vintages.  But over 100 years old?  That's like the vinous equivalent of surfers chasing the 100-foot wave.
In what will come as absolutely no surprise whatsoever to wine geeks anywhere, much cajoling, begging and pleading to try the wine then ensued. Successfully, I should add!
While my past encounters with more storied wines of yore have never resulted in a formal review, my brush with this turn-of-the-century greatness – the 1900 D'Oliveiras Reserva Moscatel Madeira – is an experience available to you, since the wine can be found on the market without too much difficulty (though not for too little cash!), and so marks the first time I'm giving a formal review of a very, very old vinous soul…