This past September while touring the less-appreciated side of Bordeaux as a guest of Planete Bordeaux, we wrapped up our jaunt with a boat ride, before which we tossed back some cured meats and a lot of tasty and inexpensive Bordeaux whites and rosés, and during which we tossed back some oysters and a lot of tasty and inexpensive Bordeaux whites and rosés, and after which we ate dinner at a modest-but-quite-good restaurant along the water (and tossed back a lot tasty and inexpensive Bordeaux reds, whites and rosés).
But before you fly into a curious jealous rage and/or hate on me for even accepting a trip like that, it should be noted that in typical organized-by-the-French fashion, this little aquatic jaunt sounds more idyllic than it is when manifested in the context of, well, reality. We had to roll up pant legs carry shoes and socks and wade through the crisp, September-chilled waters to climb into the boat, a well-maintained but on-the-small side craft that would have suited four people a lot better than it did ten. I like to drink, and I like to east, but I don't like to sit on wood planks for long periods of time (thought I gave that one up when I decided to stop going to Catholic Sunday mass regularly).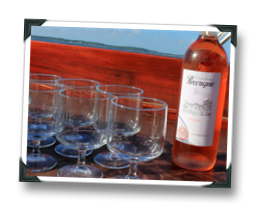 Once the wine and oysters are flowing, however, it's easy enough to forget the relatively mild inconveniences and the Autumn bite, so I'm not complaining here. I'll let the photos do the talking.
However, taken as a whole, a leisurely open-aired boat ride is not the environment that's conducive to any kind of formal critical assessment, which doesn't matter anyway when Academy Award-winner Marion Cotillard is dining (with entourage) a few tables away from you, and someone (in this case, Marc Milhade, of Chateau Recougne) brought along a 1959 red that their grandfather made. At which point things become decidedly more… awesome…