In theory, it ought to be easy to hate on the Champagne house Bollinger.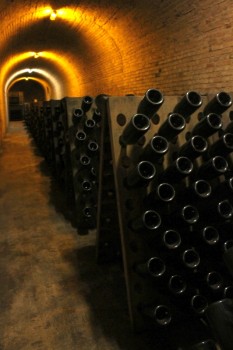 They're big (producing about 3 million bottles annually); they're kitschy-famous (getting the royal warrant from the UK market in 1884, and then becoming the official Champers of agent 007); they're fairly corporate (a staggering – and, one imagines, barely manageable – 175 shareholders); they have that other matriarch, the one with the famous and too-oft-cited quote about basically drinking Champagne all of the time (and let's not forget that Lilly Bollinger originally resisted the release of a rosé, viewing it as "red-light district" wine, which casts serious doubts as to her sanity in my view…); and they have 5 kilometers of cellars under the town of Ay, housing 700,000 magnums full of aging wines (ok, that last bit is actually really cool).
But with Bollinger, we have a clear case of the gimcrack facade belying a core of true vinous substance (rather than the other way around). So… sorry, but the haters are gonna need to shelve that shiz for a few hundred words.
On a rainy day in September, my visit included a chat with Adjoint de Cave Denis Bunner, a young guy who had a my-job-is-really-awesome smile chiseled onto his face in a near-permanent state. He seemed to revel quietly in the history of Bollinger, dating back to when Ay was the epicenter of Champagne production. He described Bollinger as a "living patrimony" to Champagne, thanks primarily to Madame Jacques Bollinger's tenacity: "She would say, 'if it's good for the wine, I don't care about the cost; we do it!'"…