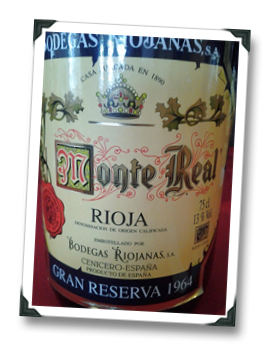 Despite the simple title, I did, in fact, have serious reservations about the subject of today's featured juice. After all, technically I tasted it while being "on the clock" for a paying gig with Wines of Rioja (now ended), which had me wondering just how impartial of a judgment I could make about it.
But there are tasting moments so formative, so elemental, that sometimes you have to go with your gut and trust in the intelligence and goodwill of the Global Interwebs to forgive you if you stray into a gray-ish, conflict-of-interest no-man's land. Also, now that the gig is several weeks behind me, I felt we had enough "distance" to give this thing a proper airing here.
The vino causing me such temporary consternation was the clean-up hitter of the trade panel tasting I moderated as part of the recent sold-out series of Rioja Week events in New York. We had a great group of winemaker panelists, and tasted some fascinating juice (including a rare look at a nearly extinct Spanish grape, Maturana, given a bold, modern treatment by Dinastia Vivanco). I think most of you appreciate the fact that I call things as I see them, and would tell you (despite the paycheck) if the wines were under-performing, but in this case we had easy jobs on the stage that day; everything in the tasting lineup was showing nicely.
Including that clean-up hitter, which happened to be a spry fifty years young…