Late last month, I wrapped up a stint at the fourth and final wine competition in which I'd be judging in 2013, the 10th Annual Critics Challenge in (Stay Classy) San Diego.
The results of that comp. have been announced. Following are some thoughts on the Critics Challenge itself, and notes on some of the winning wines.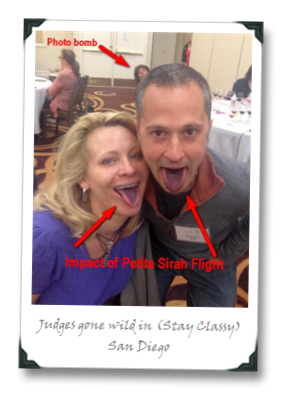 All hyperbole aside, I loved judging at the Critics Challenge with a passion that burns like the core of a million undiscovered stars [ Editor's Note: not all hyperbole has been taken aside ]. And so, this might turn out to be a love letter of sorts to the CC.
The only CC cavil I've got is that the location, a bit outside of downtown (Stay Classy) San Diego isn't the most convenient or picturesque of spots (unless you really enjoy close-up views of twelve-lane highways and strip malls). Otherwise, the CC is the kind of wine comp. in which almost any judge wishes he could take part: high-caliber judges who aren't douchebags, a volunteer staff that keeps pace with any (I've yet encountered) worldwide, a well-organized agenda, generally very-good-to-excellent wines being entered, and a total dismissal of what has become a meaningless award given in American wine comps. (the Bronze Medal). I can't even fault them for giving me that Petit Sirah flight, since a) many of them were good, and b) they gave us Sensodyne whitening toothpaste.
Each of the CC judges is paired up, with each pair getting a volunteer captain to coordinate logistics, and the highest medal awarded between the pair for any given wine becomes the final award chosen (predicated on the idea that if you only invite judges who know what the hell they're doing, this system should turn out to be fair to the wines and to consumers). In what I can only conclude was a fit of insanity, head honcho Robert Whitley paired me with ThirstyGirl.com founder and all-around-awesome-girl Leslie Sbrocco; we beat the oddsmakers, though, in that neither of us was either kicked out of the comp. or arrested by the (Stay Classy) San Diego police…