In what's become a surreal state of affairs, the list of California cult wines that I've yet to try in some way/shape/form is dwindling. Quickly.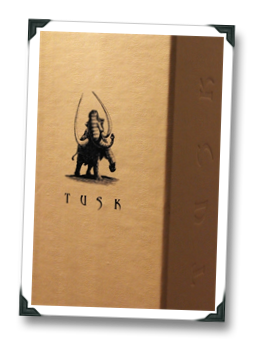 The surreal part is that there is no way that I could afford these wines on my own, and in some cases I wouldn't want to pay the money for them, anyway.
That's not quite the case for one of the newest wines to join the cult cadre, the worst-kept-secret Napa Valley Cab that I featured in the latest Wined Down column over at Playboy.com: Tusk, a new partnership with what-a-surprise-okay-not-really Philippe Melka at the winemaking helm.
The story over at Playboy.com has the whole, well, story on my initiation into the Secret House Of Tusk, from the former movie mogul mansion they are converting into their annual party crash pad, to their play to be one of the first real "populist" cult wines by eschewing ratings and implementing a "two degrees of separation" member list policy; so I'm not going to repeat it here, and will instead urge you to go over there and read it, and then buy 700 subscriptions for all of your friends. I will provide you with a bit more on the tasting note front, though, in case you've got a serious amount of wine fund money burning a hole in your rich-ass pockets…