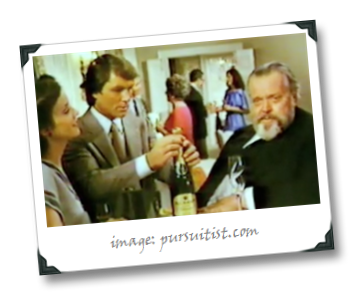 When it comes to tasting wine in a critical context (critical as in "for the purpose of reviewing potential and quality" and not critical as in "life-threateningly-important" – though way, way, way too many people treat it that way), I'm often reminded of the phrase made (in)famous decades ago in wine TV commercials by an aging (and rapidly expanding) Orson Welles.
No, I don't mean "Mmmmyyyyaaaaaargh…The French!…"
I mean "wine before its time."
The deeper I go into this Going Pro rabbit hole, the more often I find myself tasting a fine wine (several) years before "its time" – what I would consider its optimal drinking age.  It's something that came to mind while I was reading (and subsequently commenting on) a recent blog post by Wine Enthusiast's Steve Heimoff, when he mused that it's a treat for wine reviewers when they actually get an appreciable amount of time to enjoy a wine at leisure (a point with which I agree, and one I can appreciate given that I've found myself in similar circumstances recently – though as a general rule I eschew tasting large volumes of wine quickly and, as mentioned before on these virtual pages, I'm not interested in going that route for 1WineDude.com).
So, what is a wine's optimal drinking age, then?…