Sign Up
to get all the latest wine coolness delivered to your virtual doorstep. I've also got
short, easily-digestible mini wine reviews
and some
educational, entertaining wine vids
. If you're looking to up your wine tasting IQ, check out my book
How to Taste Like a Wine Geek: A practical guide to tasting, enjoying, and learning about the world's greatest beverage
. Cheers!
A group of young, talented winemakers are on a mission to change the perception of wines from the Rheinhessen; a look at one of those winemakers reveals just how dramatic – and successful – that change might be…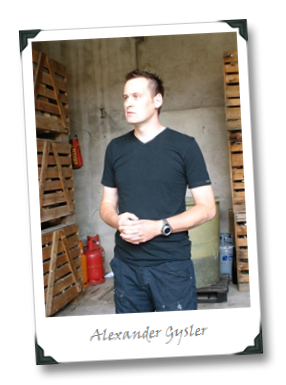 The first thing one notices about Alexander Gysler… is that he's tall.
Even for Germans this guy is tall.  Even to a traveling writer of Mediterranean decent who is 5'5", and to whom everyone seems tall, he's tall.  Alexander towers a good head height over everyone in our traveling party.
We're in Weinheim, having arrived at noon after a wine-related guided city tour of Mainz.  The previous evening, I'd been given an introduction to quality Rheinhessen wines over dinner in nearby Oppenheim, our hosts being a trio of winemakers that belong to the group Message in a Bottle – an organization of young winemakers who are trying to undo the sins of the Rheinhessen's past, at least in terms of wine.  Judging by their output – especially the bone-dry but somehow still very well-balanced Riesling Auslese from Pfannebecker, they're starting to succeed.
Which brings us back to the big guy, Alex.
To hear Alexander's story is to get a glimpse into the history of Rheinhessen wine.  Despite his formidable size, Alexander is soft-spoken, almost quiet, but quick with a smile or short laugh.  He's also understated.  Case in point: His 2008 Huxelrebe Beerenauslese was recently chosen as a showcase German wine on offer in Lufthansa's first class service.  And it might be the best Huxelrebe you've never tasted, with honeysuckle, lemon, and grapefruit aromas, balanced with vegetal and citrus notes and a honeyed finish that clocked in at 20+ seconds.  When I asked Alexander how he managed to score the Lufthansa gig, his answer was short and almost as sweet as the wine itself: "We were very lucky.  In Germany, it's impossible to sell sweet wine."
Which brings us back to the story of Rheinhessen wine…