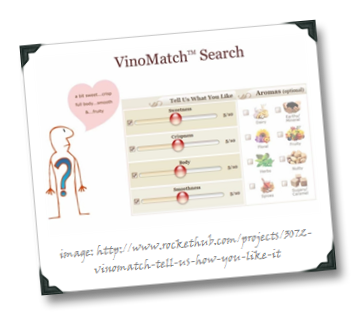 Fitting squarely into the "Well, Now This Is Interesting" Department (I just made that department up, because it's my blog and I can do that sort of thing, after all), I recently received a PR-style email about a new wine search engine called VinoMatch.
VinoMatch is not an all-things-wine-related search engine (good thing, too, since it's likely that nothing can compare to AbleGrape.com in that department – and no, that's not a new official department here at 1WD, okay?).
No, what's interesting is that VinoMatch is a search engine that's meant to connect the average wine consumer with wines that they like based on flavor profile.  I.e., you navigate flavors and styles that you're looking for, and VinoMatch presents you with wines that fit your criteria – theoretically linking you up with a wine you're more likely to enjoy than a recommendation based on points from a small number of critics.
I love this idea, because I love the idea of people educating themselves about their own wine preferences and getting to the point where they can make comfortable wine-buying decisions on their own (sh*t, I wrote a short book entirely about how to do that!). But I don't hold out a ton of hope for VinoMatch – at least, not just yet.
Why not? Well, the details behind answer to that question are even more interesting, I think…