Sign Up
to get all the latest wine coolness delivered to your virtual doorstep. I've also got
short, easily-digestible mini wine reviews
and some
educational, entertaining wine vids
. If you're looking to up your wine tasting IQ, check out my book
How to Taste Like a Wine Geek: A practical guide to tasting, enjoying, and learning about the world's greatest beverage
. Cheers!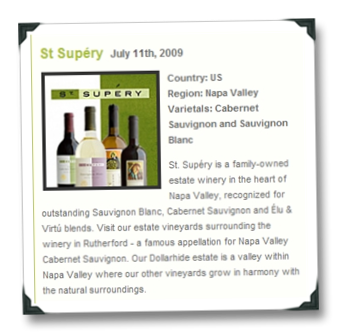 Time for another Twitter Taste Live! event.
I know what you're thinking.
Will this herald yet another untimely celebrity death and bring twitter to an equally untimely end?
I sure hope not.  At the very least, I hope I have a chance to be buzzed before twitter takes a dump all over the Internet.
So onward we will press… This time around, wine twitter-maven and all-around ubiquitous (and hilarious) on-line wine goddess Thea (a.k.a. WinebratSF) will be leading us through a tasting of wines hand-picked for Summer enjoyment from venerable Napa producer St Supéry Vineyards.
Proceedings will kick off at 9PM ET on Saturday, July 11.  You can read Thea's energetic intro to the event here.  A run-down of the wines looks promising:
I'll be in attendance, as I can't seem to achieve escape velocity for any TTL event… nor would I want to, come to think of it…