Given that, at the time this publishes, I will be on the road (yeah… again…), this seemed like an apt time to dive into the non-liquid portion of the sample pool, and offer up the July 2016 incarnation of the Wine Product Roundup. This month, there are no drinking vessels in the lineup, but the printed word does again make an appearance (because, well, writing).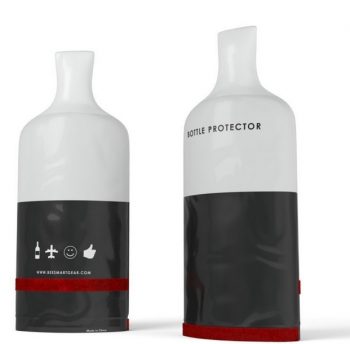 First up under the review microscope is Bee Smart Gear's Bottle Protector (about $20 for a pack of 3). Generally, I like to refer to these types of products as "bottle condoms," since they serve a similar purpose: physical protection, and prevention of leakage (sorry; yeah, I went there).
I am a fan of these products (talking about the wine bottle protectors now), because I have used just about all of them in real-life, checked-baggage scenarios and I can personally attest to their efficacy. In Bee Smart's case, you slip the bottle neck-first into the bottom of the protector, being sure that the internal bubble-wrap covers the entire bottle (you can fit a 750ml or smaller into these). You then close the double zip-locks at the bottom, roll up the end, and connect the velcro straps.
The bubble wrap provides ample protection, provided that you pack the bottle intelligently (aim for the center of your suitcase, with plenty of dirty undies on all sides). If there is a break, the bags almost always provide great leak protection; in fact, if you enclose a full bottle into one of these, and smash it with a hammer, in my experience it won't leak unless the bag is punctured (I do not recommend trying that at home, by the way)… Read the rest of this stuff »