It's that time of year again, people.
The time when you get to have your say on what constitutes the best of alternative wine coverage on-line. The time for you to vote in the 2012 Wine Blog Awards.
The 2012 WBA finalists have been announced today, and as it has been since the WBA's inception, that list solicits mixed emotions from me.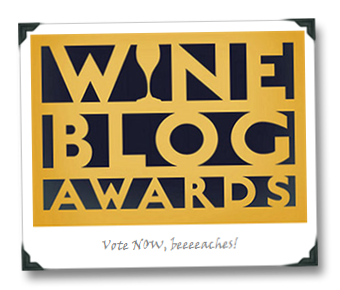 I'm thrilled to be a finalist again this year for both Best Overall Wine Blog and Best Reviews On A Wine Blog. The latter is a particular point of pride for me, as reviews have become such a large part of my little corner of the wine universe on-line, and the nod comes despite the fact that not a single numeric value has ever been levied against a wine in a review on this site. I think that speaks to the fact that there really is a place for alternative takes on wine quality, and that the time for wines of context – and reviews with context, with story, with humanity – is quickly coming upon us. But I've no idea why everyone insists on separating the name of my blog with spaces when it gets listed in things like this, as if the title needed to be pronounced with tension and gravity, like someone on the bridge of the Enterprise was announcing the countdown to impact of an incoming proton torpedo… "twenty… seconds… to… impact… 1… (space) Wine… (space) Dude…!"
Anyway… I'm equally thrilled to see great writing and fantastic independent wine coverage by friends of mine acknowledged in that list (re-posted below after the jump in its entirety). Congrats to all of the finalists!
I'm not so thrilled that the list fails to include others that I admire (such as Courtney Rich, whose wine pairing photography blog is among the most daring pieces of alternative wine coverage to hit since, well, since wine blogs themselves hit the scene about five years ago… there are others, too many to mention probably…).
I've had firsthand experience in how the WBA judging process works, so I know not every great blog will make the finalist cut, and massive kudos are due for Joel Vincent and the team organizing the WBAs; I was on a WBA improvement committee during the last several months, and I debated, conversed, and watched as Joel and the WBA team implemented nearly every one of he great suggestions that came out of that committee (most notably opening up the judging process to the same transparency that we in the wine bog-o-world demand of ourselves and of others).
Enough of my babble – polls close July 26th, so get out there and vote, and make your voice heard! I won't turn down a vote for me, but I won't be giving you any free wine if you do throw me a vote (well, not unless you come to my house to drink with me…)…