I don't know bumpkis about baseball.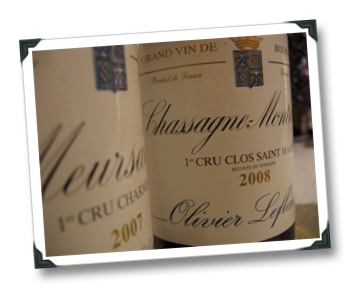 Never have.  I prefer sports where guys hit each other at high-velocity (football, hockey), or where the mere act of finishing a game is near-miracle of aerobic survival skills (soccer).  As for all of the numbers that flash up on the screen when someone comes to bat? I don't call that fun with stats, I call that torture; forget beating or water-boarding, you wanna get details on terrorist attacks from a suspect, submit them to an endless series of baseball games… that ought to get them talking in a hurry.
But Phillies fever is (rightfully and deservedly) sweeping the local populace out my way, and I do appreciate how hard it is to hit a baseball thrown in the major leagues – it might be the most difficult thing to do in all of professional sports.  So I know the value of a homerun – and "home run" is an apt descriptor for the results of the recent Frederick Wildman twitter tasting event with Burgundy producer Olivier Leflaive.
I have such a troubled history with Burgundy; in my opinion, there is no more inconsistent a wine experience on offer for so much money as there is in the vinous produce from rolling hills of the Burg'.  At this point, I think I'd have better luck in playing craps than in buying Burgundy wines, and to this day it is just about the only wine region that I won't touch with my own money without a close friend experienced in Burgundy wines at my side in the wine shop (fortunately, I know a lot of experienced wine people).
And yet, there exist producers like Olivier Leflaive that can steer you so right so often – for a (sometimes steep) price, of course.  But if you have the cash, you're in for a treat when it comes to Leflaive, particularly the 2008s…