Doug Cook, founder of the amazing wine search engine AbleGrape, is smart guy. A really smart guy; as in, instantly-doubles-the-IQ-of-the-room-when-he-walks-in-no-matter-how-many-people-are-there smart.  His intelligence level is matched only by his largesse, especially when it comes to sharing wines from his extensive and impressive cellar.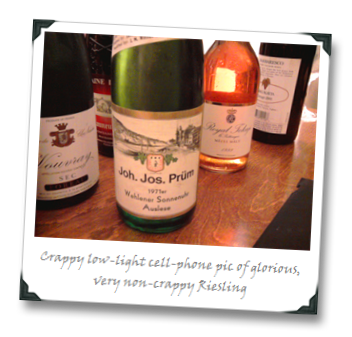 That generosity was on full display at the recent Pro Wine Writers Symposium in Napa, when Doug busted-out some vinous gems at one of the post-post-prandial (PPP?), informal gatherings (a.k.a., after-after-parties), the most brilliant and multi-faceted of which was a wine whose existence on Earth slightly predates my own, a 1971 J.J. Prüm Wehlener Sonnenuhr Riesling Auslese from the Mosel.
The wine was, in a word, amazing: honey, flowers, orange rind, nuts, beeswax (yes, I actually know what that smells / tastes like, not because I'm a beekeeper – though I think beekeepers totally rock – but because I play didgeridoo, which uses beeswax as a mouthpiece); basically, a delicate and pure example of everything that Mosel Riesling stands for and to which the best examples should aspire. Alder Yarrow, who was with me at the PPP, summed up the sensory experience of that wine recently on Vinogrpahy.com so I won't repeat it here.  By the way, it was fun to watch a normally poised Alder about lose his sh*t over some of those wines.
Anyway, what I do want to talk about here is why the wine was so glorious – and what was in the bottle is only partly responsible for that…