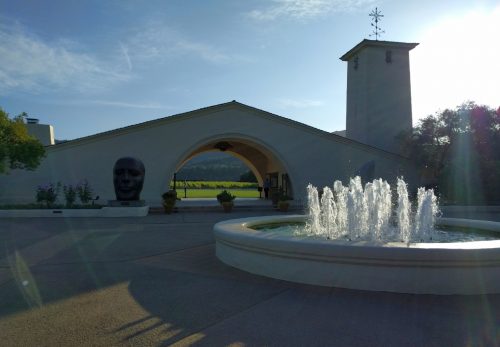 Know how to get a cavalcade of seasoned (read: potentially jaded) wine writers, winemakers, wine growers, and wine industry insiders to go as quiet as mice (I'm talking pin-drop-sounds-like-a-jet-engine-on-fire quiet), and as stupefied as deer in the headlights?
I do.
I saw Robert Mondavi Winery pull it off a few weeks ago in Napa Valley.
You tell the crowd that you've just tapped the keg on the remaining bottles of the winery's inaugural Reserve-level Cabernet Sauvignon bottling (in this case, the 1966), and that wine is now in everyone's glasses. Oh, yeah, then you have the creator of that wine stand up and say "I'm Warren Winiarski, and I made this wine."
As once-in-a-lifetime wine tasting events go, that one ranks pretty highly, even for those of us who have already had outsized amounts of once-in-a-lifetime wine tasting event opportunities (this was helped by the genuine combination of pride, awe, and shock in Winarski's voice as he described that he never expected to be speaking about the 1966 Cab fifty years later).
During the course of the multi-day Mondavi event at the Napa Valley winery (which I attended as a media guest), we ended up going through a sizeable portion of the last fifty vintages of Robert Mondavi Winery's Reserve Cabernet Sauvignon.
What became clear as we were lead through the various tasting proceedings and events by RMW educator Mark de Vere, and winemaking team Genevieve Janssens, Joe Harden, and Megan Schofield, was that this iconic wine is impossible to separate from its equally iconic winery, and its arguably much more iconic namesake.
I half expected the ghost of Robert Mondavi to waltz in on us like a whirling dervish at some point during our tastings, and I don't at all mean that flippantly; at this point, his presence and influence is as firmly embedded in the superstructure of RMW as the material in its literal foundation…